Maharashtra Government formation Live Updates| 'Together in this fight': Sharad Pawar backs Sena chief Uddhav Thackeray
Devendra Fadnavis of the BJP started his second term as Maharashtra CM with NCP's Ajit Pawar as deputy CM from today morning. NCP chief Sharad Pawar and Uddhav Thackeray addressed a press conference where Pawar said that he will back the Sena chief to form a government in Maharashtra.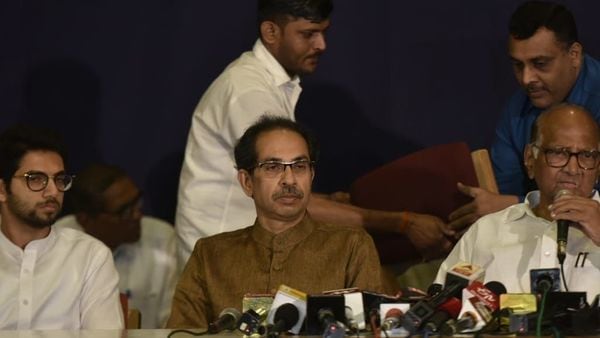 BJP's Devendra Fadnavis has taken oath as the chief minister of Maharashtra. He was sworn-in by Governor Bhagat S. Koshyari, alongside, NCP's Ajit Pawar, who will serve as the deputy CM of the state today at 8 AM. NCP chief Sharad Pawar and Sena chief Uddhav Thackeray addressed a press conference where Pawar confirmed that deputy CM Ajit Pawar has taken 10-11 MLAs with him and he has been removed as legislature party leader. Sena chief Uddhav Thackeray dared the BJP to poach his lawmakers and said that Maharashtra 'will not be sleeping tonight'. NCP MLA Shingne said that Ajit Pawar had summoned him and other MLAs to his flat, and on the arrival of Fadnavis and CB Patil they had an idea what was going on following which three lawmakers came back and reported to Sharad Pawar. NCP MP from Baramati Supriya Sule told the Hindustan Times that there is a split in the NCP. Nawab Malik, NCP lawmaker, said that signatures of MLAs which had been taken to mark attendance was deliberately misconstrued as support for the newly formed government.
First published: Nov 23, 2019 08:38 IST