Highlights: ICMR DG Balram Bhargava tests positive for Covid-19
China has kickstarted an ambitious effort to inoculate 50 million people against Covid-19 ahead of the Lunar New Year, using locally developed shots that are moving closer to getting regulatory approval.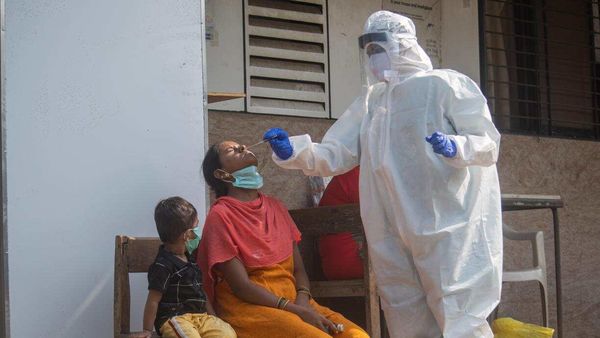 India recorded 22,890 new cases of the coronavirus disease (Covid-19) in the last 24 hours, according to the Union health ministry. The nationwide case count has now reached 99,79,447. The number of active cases stands at 3,13, 831, while 95,20,827 patients have been cured or discharged from hospitals. The country also recorded 338 fresh fatalities due to the disease which pushed the nationwide death toll to 1,44,789.
The figure of new cases per million population in India in the last seven days - 147 - is one of the lowest in the world, it underlined. India's Covid-19 tally had crossed the 20-lakh mark on August 7, 30 lakh on August 23, and 40 lakh on September 5. It went past 50 lakh on September 16, 60 lakh on September 28, 70 lakh on October 11, 80 lakh on October 29, and 90 lakh on November 20.
According to the Indian Council of Medical Research (ICMR), 15,66,46,280 samples have been tested up to December 15.
Click here for full Covid-19 coverage
The world Covid-19 caseload is nearing 75 million cases, as per the latest updates by Johns Hopkins University. The Covid-19 dashboard by the Center for Systems Science and Engineering (CSSE) at Johns Hopkins University (JHU) reported that the world tally stands at 74,952,221 and 1,662,127 fatalities due to the virus. The US continues to be the worst-affected country by the pandemic with the tally surging past 17 million. The caseload currently stands at 17,206,647 and 310,699 patients succumbing to Covid-19 across the country.
Brazil continues to have the second-highest Covid-19 death toll in the world, according to the tracker with over 184,827 fatalities across the South American country, the tracker stated further.
Here are the highlights:
07:54 AM IST
South Korea reports 1,062 more Covid-19 cases, 47,515 in total
South Korea reported 1,062 more cases of Covid-19 as of midnight Thursday compared to 24 hours ago, raising the total number of infections to 47,515.
The daily caseload stayed above 1,000 for three straight days for the first time, with a record daily high of 1,078 on Wednesday and 1,014 on Thursday each.
The daily number of Covid-19 infections hovered above 100 for 41 days since November 8 due to small cluster infections in Seoul and its surrounding Gyeonggi province as well as imported cases.
07:41 AM IST
Pfizer says no production issues, confident of delivering vaccines globally
Pfizer has said in a statement that the company faces no production issues and also said that it is confident of delivering 50 million doses by year end and 1.3 billion doses in 2021, reports Reuters. US officials had earlier pointed out to manufacturing challenges in Pfizer's Covid-19 vaccine.
First published: Dec 18, 2020 07:25 IST