Maharashtra govt formation Updates: Sena leaders celebrate in Parliament premise
Pro-tem speaker Kalidas Kolambkar administered oath to newly-elected MLAs of Maharashtra in a special session of the assembly on Wednesday.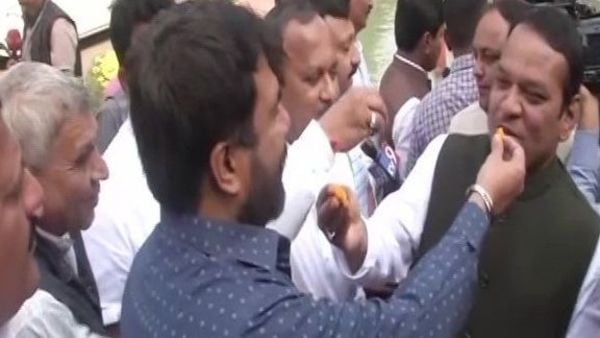 A special session of Maharshtra assembly was held on Wednesday where the newly-elected MLAs were administered the oath of office. Pro-tem speaker Kalidas Kolambkar administered the oath.
The special assembly session, which began a little after 8am, was called by governor BD Koshyari after the Supreme Court on Tuesday, hearing a petition by the NCP, Sena and Congress, asked him to appoint a pro-tem speaker and ensure all elected members of the House are sworn in on Wednesday itself by 5 pm. The petition had challenged the governor's decision to install a Devendra Fadnavis-led government on November 23.
However, the BJP-led government in Maharashtra collapsed on Tuesday as chief minister Fadnavis admitted his administration didn't command a majority and resigned, capping 80 dramatic hours in which dissident Nationalist Congress Party (NCP) leader Ajit Pawar broke ranks and took oath as deputy CM, only to find himself unable to muster the required support.
The fall of the four-day-old government came hours after the Supreme Court ordered a floor test by 5pm on Wednesday, and paved the way for an Opposition coalition of the Shiv Sena, NCP and Congress — the Maharashtra Vikas Aghadi — stake claim to power.
Here are the updates:
First published: Nov 27, 2019 07:51 IST