Naik Shirishkumar Surupsing of INC wins in Nawapur
The Counting of votes for Maharashtra assembly seats Akkalkuwa, Shahada, Nandurbar, Navapur, Sakri seats is in progress. Stay here for live updates.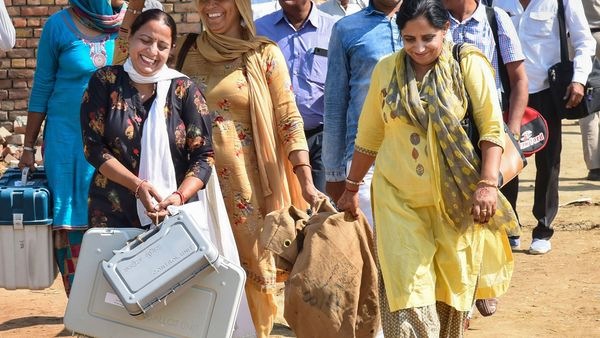 The results of the Maharashtra Assembly elections will be declared on Thursday, October 24. The voting for 288-member Maharashtra Assembly polls was held on October 21. The estimated voter turnout in Maharashtra was 60.83%. Most of the exit polls have predicted victory for BJP in Maharashtra but Hindustan Times has not conducted any independent exit polls or partnered with any agency for the purpose. So Hindustan Times cannot independently verify the authenticity of these exit polls. In this blog we will give you the latest update of the counting of votes for Akkalkuwa, Shahada, Nandurbar, Navapur, Sakri and Dhule Rural constituency of Maharashtra.
Akkalkuwa constituency is under Nandurbar District. It has 2,77,917 electors out of which 1,38,028 are female and 1,39,889 are male.
Shahada Constituency comes under Nandurbar district. There are 3.2 lakh voters in the constituency out of which 1,58,616 are female, 1,61,637 are male and five are third gender.
Nandurbar constituency has 3,38,624 electors in which 1,68,189 female, 1,70,428 male and 7 third gender.
Nawapur is under Nandurbar district. It has a total of 2,87,614 electors in which 1,47,190 are Female, 1,40,423 male and 1 Third Gender.
Sakri is under Dhule District. it has 3,42,324 Electors out of which 1,66,004 are female, 1,76,310 are male and 10 are third gender.
Dhule Rural is under Dhule District. It has 3,71,741 Electors out of which 1,78,600 are Female, 1,93,140 are male and 1 is Third Gender.
First published: Oct 24, 2019 05:50 IST